One of the first thing that comes to mind when you think of Japan are probably beautiful Cherry Blossom Trees or Sakura, that are often depicted in animes and travel magazines. Even for native Japanese folks it is an incredible site that is viewed with friends and family during the spring season. This event is not only a celebration of mother nature's gift but an excuse to get really drunk! Hanami is pretty much a giant, Japanese party!
History Of Hanami
The time old practice of Hanami was said to have begun during the 700's during the Nara period. Before the weather channel existed, Cherry Blossoms were used to predict the year's harvest and begin the rice-planting season. It was believed that a godly spirit inhabited the trees and an offering was made and sake was drank. It started with the viewing of Plum or Ume blossoms, but in the Heian period (794-1185) the beautiful Sakura flowers got the people's attention.
During the Azuchi-momoyama period (1568-1600), the famous Hanami parties came into bloom by a famous warrior named Toyotomi Hideyoshi who was apparently an avid party planner too. These parties were depicted in art throughout time and can be found on Japanese folding screens. But like all things back in the good old days, commoners weren't allowed to get in on the fun. It wasn't until the Edo Period that Sakura trees were being planted in public areas, and those not apart of the elite were finally able to party!
Japanese art throughout history has depicted the Cherry Blossom Festival, particularly in Ukiyo-e which was a genre during the 17th to the 19th century. Some famous work were: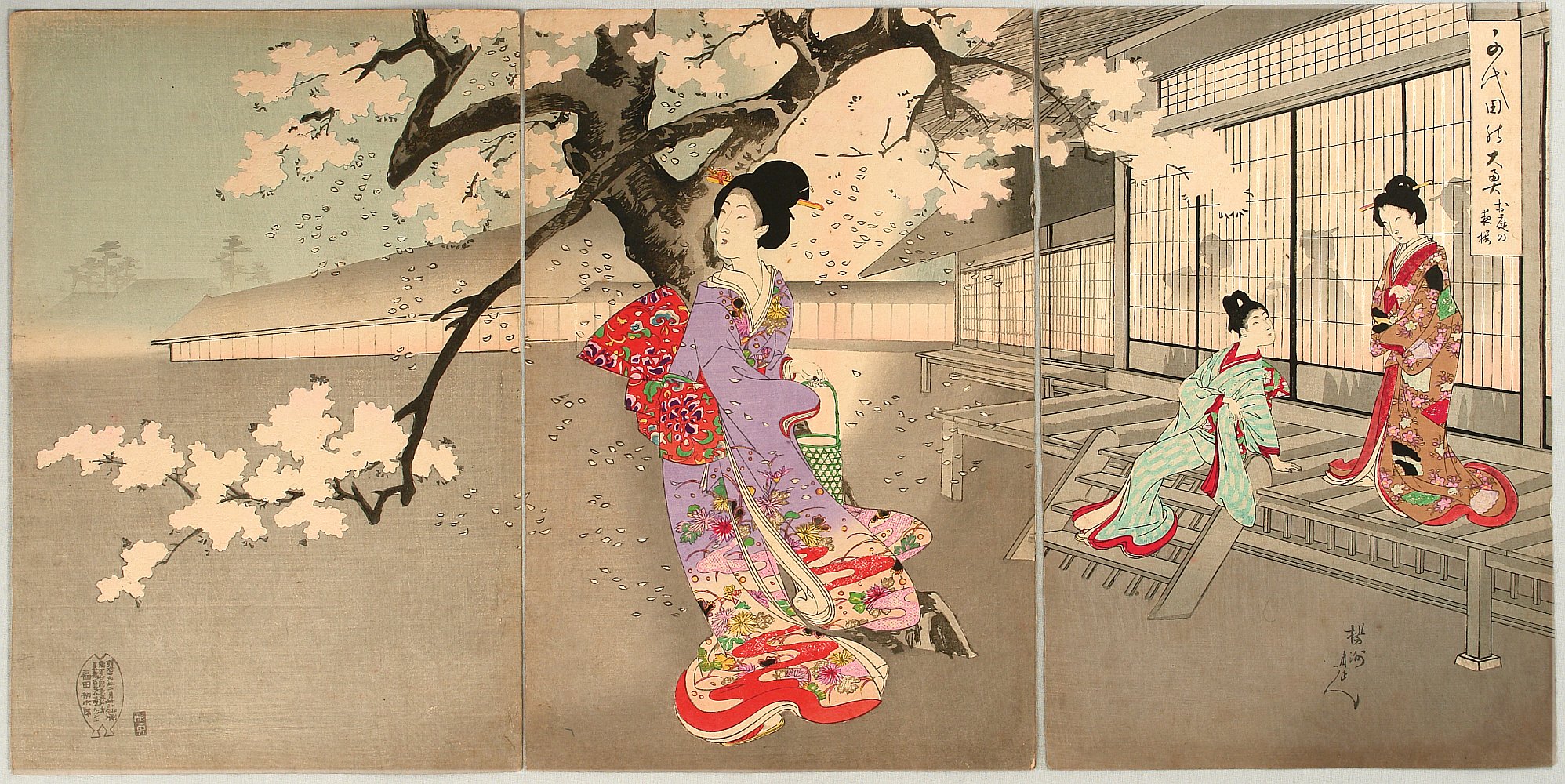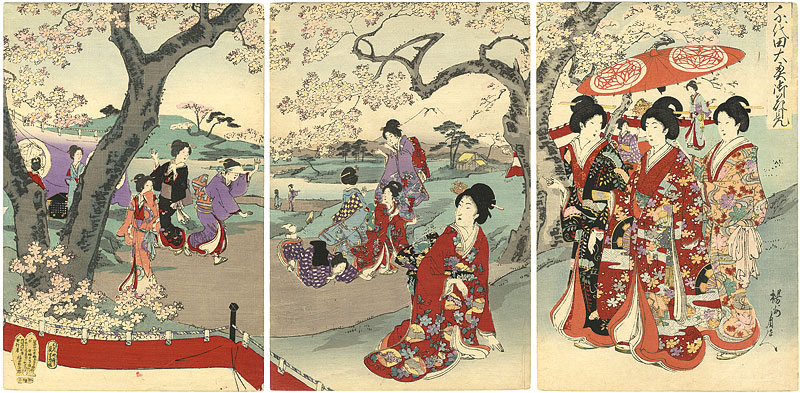 The Japanese love to use any excuse to release limited edition items, and Hanami is no different. So many cute, pink edibles are released during the spring seasons and some of them are even sakura flavoured! Starbucks Coffee releases a Sakura themed drink every year and this year is no exception:
Other sakura themed products include:
McDonald's Sakura French Fries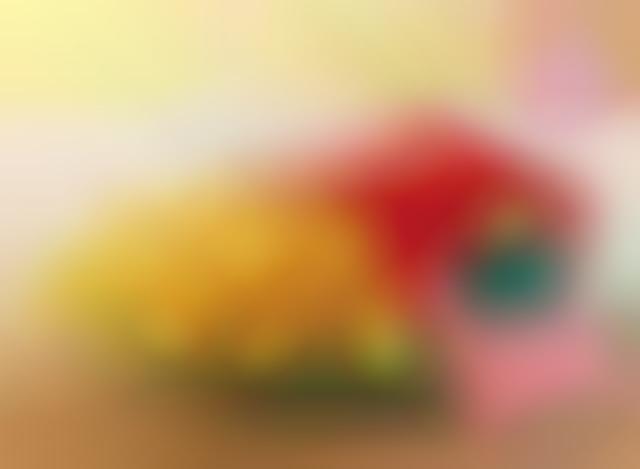 Sakura Pepsi
Asahi Spring Beer
Haagen Dazs Sakura Ice cream
Traditional Japanese sweets known as wagashi are a common treat to enjoy during Hanami:
Nerikiri is a type of wagashi made with bean paste, sugar and rice rough is often designed like the beautiful cherry blossoms and served with tea. You will see these everywhere in Japan during spring season.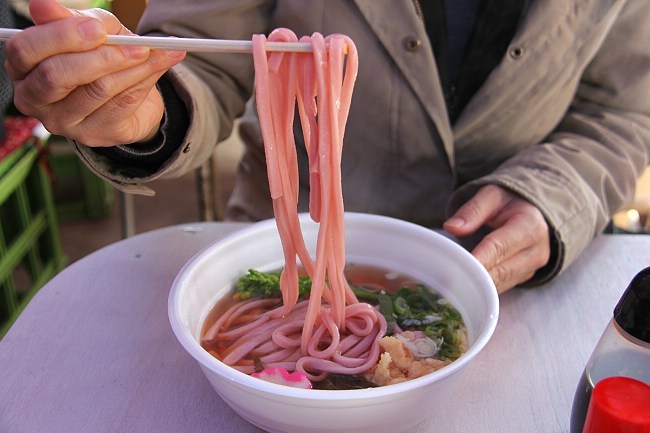 A more surprising seasonal meal is Sakura Udon! Not only are they a kawaii pink color, but they have actual sakura flavor infused into the noodles. Don't worry the flavor is quite subtle and goes well with this savory dish! These can be found in grocery stores throughout Japan during spring.
How To Hanami
So You want to know How To Hanami like a native? We've got you covered!
Hanami Alcohol
Now  that you know "How To Hanami," you're wondering what the best beverages are to get your alcohol levels to spike!?
Beer is a drink you can't go wrong with! Try a Japanese brand like Asahi or Orion. 
Umeshu for those who prefer something sweeter and more traditional. Made with Japanese plums that are fermented in sugar for 2-3 years.
Nihon Shu also known as sake! Rice wine is the best way to get drunk fast.
Best Spots to Enjoy Hanami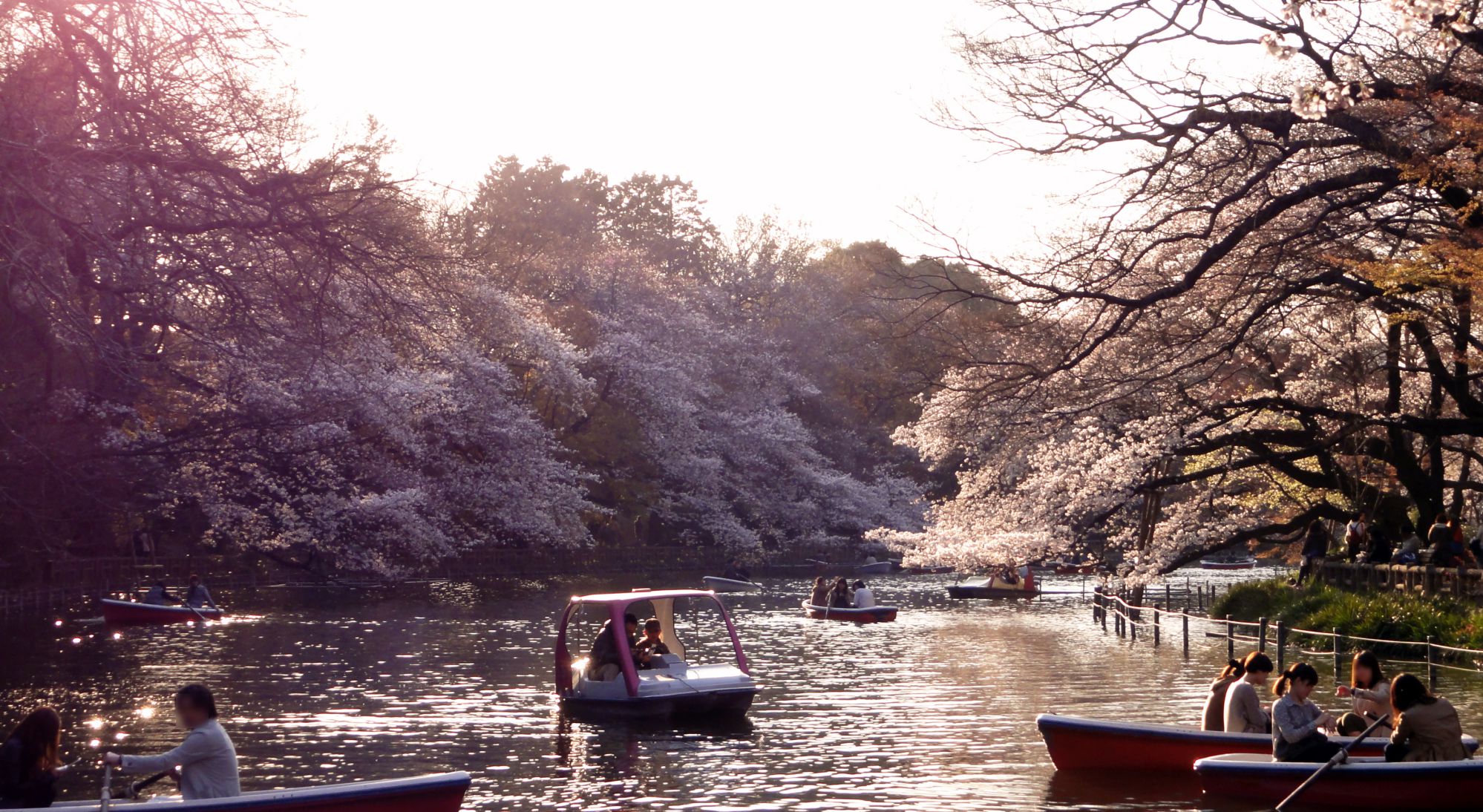 • Inokashira Park in Tokyo
Located 5min by foot south of Kichijoji Station, this beautiful city park has thousands of trees, and you can even rent boats so you can enjoy hanami from the water. The park also contains a small shrine dedicated to Benzaiten, a goddess of love.
The park also has illuminations, so viewing sakura trees at night can be seen and lit beautifully. The entry is free!
• Mitsuike Park in Yokohama
Mitsuike Park has two great advantages: it has three ponds (in Japanese, Mitsuike means "three ponds") and many small mountains where you can do little hiking courses. The park is located at a 20 min walk from Tsurumi station, in Yokohama (25min from Tokyo).
Since the cherry trees surround the pond, you can admire the sakura tree from a small boat, but also admire the beauty of its reflection in the water.
• Odawara Castle
Odawara Castle was the biggest Castles in the world during the middle ages. Now it's one of the most beautiful places for Hanami in Japan. You can visit the castle for 400 yens!
Located near Odawara Station, it will take you around an hour and thirty minutes from Tokyo.
You can also enjoy amazing night illuminations!
• Iidabashi
Close to the Iidabashi JR Station, near the West Exit, you can find Sakura trees lining up the Sumida River! At night it is very relaxing and the proximity with the sakura trees will allow you to take nice pictures! There is also some cafés near the river where you can relax under the cherry trees.
• Roppongi Hills in Tokyo
Located right next to Mori Tower in Roppongi, Mori Garden has 8 beautiful sakura trees, and close to it, Keyakizaka Street has 75 trees lining up, creating a 400m long line of sakura trees.
If you were feeling major fomo after all this party talk, Hanami is not only celebrated in Japan! Countries like Taiwan, China, Philippines and Korea also partake in the festivities. In 1912, Japan gifted 3000 Sakura trees to the United States and now Cherry Blossom Festivals are celebrate throughout the country.
Even if Hanami has become a bit of a drinking party in Japan, there really is something magical about Cherry Blossom trees lining the streets. And as fast as the Sakura appear, no sooner are they then gone. So keep track of your Cherry Blossom forecast online to catch them on time! Now that you've got the scoop on Hanami, what's your favorite part of the festival? Is it the alcohol, pretty trees or sakura flavoured food?
THUMBNAIL PICTURE BY "Frame of Travel"
Check out his Instagram and Flickr page!